Nobody NoZe My Sorrow
The BearMeat editorial board was pleased to find
our shameless advertisement with the Rope
to have turned out quite nicely. In fact, our commercial transaction with the Brotherhood, in an attempt to lure unsuspecting freshman into the darkside of Baylor sports, has given us cause for reflection on the role of the NoZe in promoting athletics at Baylor. Their legacy is an illustrious, albeit pungent, one, filled with booze, satire, and general irreverence for all things sacred. Naturally, our editorial boards hit it off right away. We thought a brief meditation on the many contributions of
the NoZe
to Baylor health and wellness was in order.
In the Spring of 1999, the NoZe, ever aware of the escalating costs of the Sloan administration, offered a Student Life Center for under $25 (USD). In an attempt to replicate the swimming and gaming facilities of the planned behemoth SLC, the NoZe offered a kiddie pool and ring toss.

In the Fall of 1991, the Brotherhood felt it necessary to remind students of that cherished Southern way of life: trucking. To do this, the Brothers placed mudflaps on Waco Hall, to lift students' focus heavenward; just as they were urged to do in Chapel. This commitment to trucking and Southern motorsports is unparalleled among student organizations.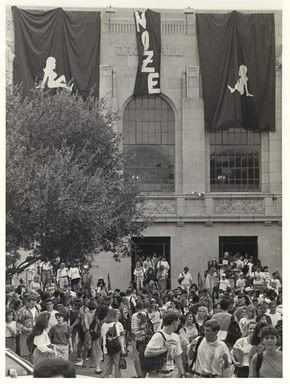 And finally, who could forget the early years of the War on Terror, when the NoZe sought to simulate a terroristic incident (the heist of the SLC Climbing Rock) to gauge campus preparedness in case of a real attack. This sports-related exercise both helped students appreciate the role of health and fitness in their lives, and gave everyone a good scare.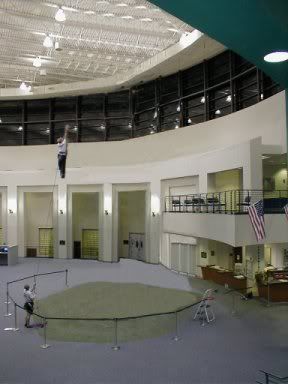 Satch on, Brothers. We'll put a Shiner on ice for you and call your attorneys.
Labels: Football, Robert Sloan, Waco