Fùtbol!?! The Intro, the Movie, the Lecture
With HelmetBall dominating most of the editorial staff's discussion these days, we decided to have a good old fashioned wet towel whippin' and crackin' chicken contest to see who gets the BearMeat soccer beat. With the determined efforts of a Portuguese flop, I crashed to the floor with Red Andrew's first crack of the towel secretly hoping to secure the chance to report on the Bears' success in a Title IX sport. So let me introduce to you the first installation of...
Carne de Fùtbol
! GOLLLLLLLLLLL!!! Parlesimmo! Viva Osos de la Señoooooor-ra!!!!!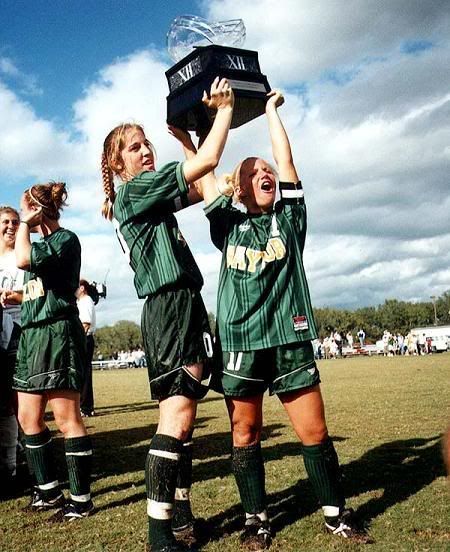 A brief history of the program would probably be the ideal beginning for my first
Carne de Fùtbol
post; however, in true BearMeat fashion I will begin my offering with a blazing critique against Baylor.
(Scene: Waco City Council Meeting. Tuesday Night. Mayor Mike Morrison proclaims that the week of February 8-13, 1999 will be celebrated as Baylor Women's Soccer week. A rapturous roar abounds City Hall's corridors in honor of Baylor's first Big 12 Championship. Suddenly, a paperboy bursts through the doors piercing the jubilation with his boyish cry.)
PAPER BOY
Extra, Extra -
First Head Coach to Lead Baylor to Big 12 Championship Quits
!
Cut to Molly Cameron, Baylor's Thierry Henry.
MOLLY:
What? Nooooo! How could you do that to us, Randy?
Cut to Randy Waldrum, Baylor's Guus Hiddink (trust me...a really good fùtbol manager)
COACH WALDRUM
The scrilla, the scrilla! It's all about the scrilla, baby! Notre Dame is giving me six figures. Tom Stanton told me that no women's coach, especially a soccer coach, will have that salary under his tenure.
MOLLY
But we're the champs. Baylor's first champs since joining the coffer-filled Big 12! Shouldn't we keep such a monumental and historic figure early in Baylor's Big 12 athletics history at all costs? To the mayor's office, team!
(Scene: Mayor's Office of Waco. Molly, an unidentified offensive midfielder and Coach Waldrum enter furiously into the Mayor's Office. Trailing seconds behind is Baylor Athletic Director, Tom Stanton. Secretaries and aides scurry about as chaos ensues.)
MAYOR MIKE
Okay, ladies and gentlemen. Who's Stanton?
TOM STANTON
I am Stanton, Mr. Mayor! I am prepared to prove to you that these women and their coach have deceived the City of Waco and Baylor University. They play a sport that does not deserve more money and recognition. And being a Title IX sport, Baylor has already sacrificed too many men's scholarships and gate proceeds from such sports as Men's swimming and wrestling. I will not give more money and incentives to a sport that's not even real football.
COACH WALDRUM
I would have brought more Big 12 Championships and an NCAA Championship to Baylor if dickless here wasn't Athletic Director.
TOM STANTON
But he wants six figures!
MAYOR MIKE
Is this true, Molly?
MOLLY
Yes it's true...This man has no dick.
THE END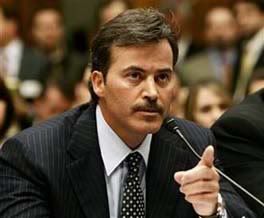 Coach Waldrum had a 46-14-3 record in his three seasons at Baylor. Since his departure in February of 1999, Baylor Women's Soccer has fallen back into the stratosphere of helmetball and men's basketball and has compiled a 58-62-12 record. The 2005 season saw the Lady Bears fall to a dismal 4-12-2 record. Meanwhile, Coach Waldrum has guided Notre Dame to a 165-34-8 record in his last eight seasons and a national title in 2004.
What bothers me the most is that when Baylor accepted the invitation to join the Big 12, students and alumni were led to believe that all sports would be given the opportunity to compete at the highest level. We all know that sports outside of the top three, football, basketball and baseball, don't make nearly as much money. But, when you have a great coach, let alone a nationally recognized coach, then you, Mr. Stanton, have to go out of your way to make sure that the great leaders and teachers will stay and will want to come to Baylor University. I know Stanton is not there anymore, but I believe this will be true for Baylor Athletics in the future. If a Baylor coach can earn more money to teach and motivate student athletes at another institution, then Baylor must seriously look at improving the contract and meeting demands in order to keep great leaders and gain the respect in the world of collegiate athletics.
Unfortunately, the Bears Soccer team has started out 1-4-1 this season with some big road losses at the always tough Portland Nike Invitational. It saddens me to read
Coach Waldrum's bio
on Notre Dame's website after thinking about what could have been, but BearMeat will stay upbeat and will most definitely root for the Bears throughout the 2006 soccer season. And with that, I will end with the BearMeat staff's closing statement: "It's not our fault...It's Tom's." Sic 'em.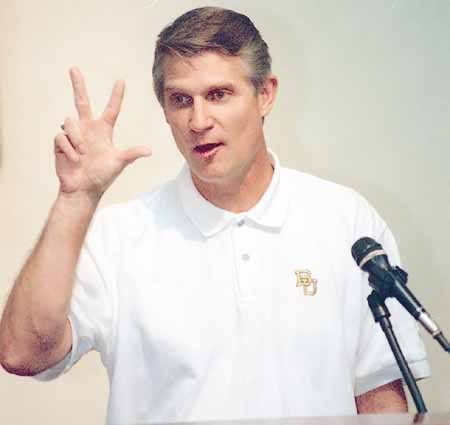 Tom "Shocker" Stanton
Labels: Waco