FrogMeat, Part 16: The Aftermath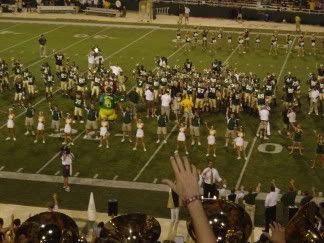 Well, to say that the BearMeat editorial board is feeling a bit low is to put it mildly; we are crushed. The AirBear offense appeared no different from the pre-AirBear days. The defense played very well for the first three quarters, led by the indefatigable C.J. Wilson - until the momentum shifted. Our offense's failure to punch it in in the red zone and second half turnovers killed our spirits. The Baylor Line, the record crowd, and the old rivalry rekindled were all beautiful to behold. Sadly, we begin our season 0-1.
Many questions remain. Why play man defense when it's 3rd and 15? Why continue to run ineffective plays? Well, we led most of the way, the game was interesting, and the BearMeat tailgate was an enormous success. Instead of FrogMeat, as we hoped, the menu today called for BearMeat. The curse of BU football lives on. Our great Sabatarian experiment failed. Perhaps, like Icarus, we flew a little too close to the sun. Enjoy these game photos as you console yourself with a lukewarm Shiner and some beef jerky. Sic 'em.
Labels: Football, FrogMeat (TCU)