FrogMeat, Part 17: What's in a Name? Time to Drop the "C"
Texas Christian University you say? Oh, I don't think so. A quick review of TCU's thankfully short Mission, Vision, and Core Values leaves you to wondering if it is time for a name change. Not once, in the 77-word mission statement is Christian (or a similar word) used in any context whatsoever. The one chance they have to write it out as part of the university's name, they merely using their acronym, TCU. In fact, religion plays no part in their mission statement.
The B on the other hand, manages to get in no less than five references to Christ and even one Jesus. We also have five references to church, four for Baptist, two for spiritual and four for ecclesia. TCU that "C" belongs to us. I realize you've had it awhile now and I am sure you are attached to it, but really are you using it? We need it. Baylor Christian University (BCU), aka "the B cubed" has a nice ring to it. I'm sure Sloan approached you about this years ago. And yes, I realize your new C-less name would be what the Agriculturalists call UT, since they are in some sort of imaginary competition to be not as old as the B. However, we don't want to just take a letter and not give you anything in return. We are willing to write you a letter of recommendation to the Big 12 to consider you for admission. We will reference all your highlights: your generosity in giving us the "C", your secular mission statement, and your proximity to I-35. Do we have a deal?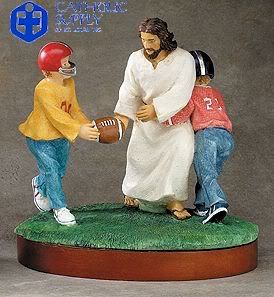 Labels: Football, FrogMeat (TCU), Robert Sloan