Demon Days: The Apotheosis of Shawn Bell
If anyone had misgivings about the AirBear offense, let him now be silenced. Five passing touchdowns and 300+ yards of air attack, and we have a new era at the B: the spread offense. The Demons fought nobly against the Fightin' Bears, but were no match for the sheer determination of our boys. In order to recap the night's highlights, I thought BearMeat should give out a few awards.
The Tele Savalas Players Club Card Award

For his two first quarter interceptions, including one run back for a Savalas-esque TD strut, we present C.J. Wilson with this most prestigious award. They might as well rename the First Quarter at the Floyd, the CJ Quarter, because he owns it now.
The Deep-Down, I'm Really a Linebacker Award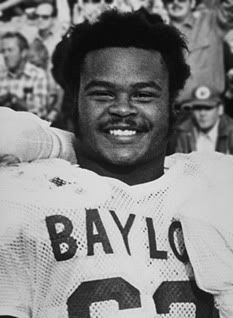 To Daniel "Danny Boy" Sepulveda, for his spectacular hit on the Demon who tried to run the blocked extra point back the length of the field for a 2pt conversion. The crowd ate it up. Though he is an All-American punter bound for the NFL, you could feel that he really wishes he was Singletary 2.0.
The Gold Rush Award

To those yellow-flag obsessed officials. I've never seen so much yellow in the Floyd before. Thanks to the 30+ penalties, the refs insured that, despite the lack of TV coverage, the game would last 4 hours.
The George Shelton Is Proud of Me Award

Goes to Trent Shelton, for his 1Q TD and 158 receiving yards. His father, George Shelton, is quite possibly the #1 Baylor fan of all time as evidenced in
this classic from the BearMeat vault
.
The Johnny Cash Award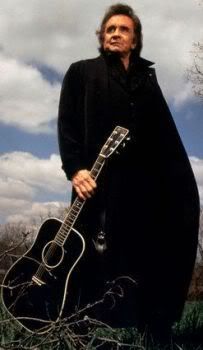 GuyMo's attire as of late has conjured up images of the Man in Black. GuyMo doesn't mess around. Up front, we need a man in black. That man is Guy Asskickin' Morriss.
The Hello, My Name Is . . . Award

Goes to backup QB Szymanski, who threw for one last TD just to make a philosophical point that AirBear works no matter who is running it. And to prove to the world that we actually have another QB on scholarship.
[
Shawn Bell Heisman Update
: 25-41, 288 yds, 4 TD, 1 INT. Status: Strong and getting stronger. Once our media blitz begins, no commentator in the nation will be able to say Heisman without mentioning Shawn "Taco" Bell.]
Labels: Daniel Sepulveda, DemonMeat (Northwestern State), Football, GuyMo (Guy Morriss), Shawn Bell for Heisman