CougarMeat: The Aggies of the Pacific Northwest?
This Saturday, the B takes the field against the mighty Cougars of Washington State. Though this untelevised bout, billed the "Battle for Seattle" above a Scruffy Murphy's urinal, has not generated the requisite media attention to get the
Bell for Heisman
campaign rolling, it has brought to our attention the similarities between Wazzu and the Agriculturalists. Both schools were founded to further the objectives of agrarian living. Both schools include a high number of "first to go to college in my family" types, which is commendable. However, the "fresh off the farm" similarities end there. While the BearMeat editorial board has been trying to muster up the school spirit to match
the untiring enthusiasm of Baylor Sports Unlimited
, it has been hard trying to cast WSU in the mold of the animal husbandry-lovin' Ags. And, quite frankly, it is just not working for us.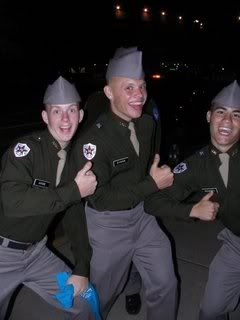 Instead, I propose a wishlist for the game.
1. Zeigler
. He must deliver. A pre-season All-American, Zeigler must regain his title as the most exciting receiver in our offense.
2. CJ
. I want nothing short of 3 INT. And I think I speak for all of Waco when I say, "It's time to turn up the smack talking. Let opponents know that you are a big deal. It's time to act the part of your talent."
3. Bell
. This is the game that will make or break his Heisman bid. To arms!
4. Lee Hays
. Time to prove to McLennan County that AirBear is not just WiFi on campus, but a viable offensive system meant to be emulated for decades hence.
5. GuyMo
. Not only do we want him in all black for the game, but preferably with a long black trenchcoat and Crocodile Dundee hat. Anything else would be a major disappointment.
6. Grant Teaff
. He looked pretty healthy to us at the season opener. Methinks a spot on the coaching staff as a "senior adviser" is in order.
7. Sepulveda
. His leg is a cannon, in whom we trust. We need at least three 60+ yarders.
8. Mosley & Whitiker
. We need to give them the ball. I think they may have forgotten the rules of the game. Run some plays for those guys before they die of neglect.
9. Shelton & Son
. They both must be on their "A" game, or all is lost. Trent needs at least 50yds receiving and a TD. George needs to cheer himself hoarse by the end of the game.
10. Baylor Line.
We need the Line to resort to the worst type of English soccer hooliganism. Time to cultivate the bad-boy rep among non-conference opponents.
This is my only prayer. That and BU by 6 (2OT).
Sic 'em.
Labels: CougarMeat (Washington State), Daniel Sepulveda, Football, GuyMo (Guy Morriss), Shawn Bell for Heisman, Waco