CareBear, Part 1: A Who's Who of Baylor's Offense
(n.b. Each description of the actual Kenner Care Bears is from wikipedia. My notes follow.)

Guy Morriss is Tenderheart Bear – The leader of the Care Bears, Tenderheart is a loving and lovable brown (later orange) bear who knows a lot about helping others share their feelings, Tenderheart helps spread love and make it grow by helping people show they care. He wears the perfect symbol for his job on his tummy--a big red heart. Pat Sez: Be it money, drugs or women, I don't really give two shits what GuyMo does to get the players motivated. If your offensive line needs more ass in the britches, then get them the goods. Get a real conditioning coach. Grab the heart off your tummy and shove it up your's and the special teams coach's ass.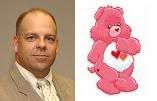 Lee Hays is Love-A-Lot Bear - With two intertwined hearts as her tummy symbol, Love-a-Lot Bear spreads the message of her namesake and makes it grow wherever she goes. Though a true believer in the power of love, she is not afraid to help it along. She can be seen dancing with her crush, Tenderheart Bear, at the beginning of the first movie. Pat Sez: Take it outside Hays. Way outside...at least more than 5 yards past the line of scrimmage. Your schemes couldn't even confuse the Teletubbies!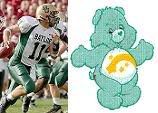 Shawn Bell is Wish Bear - Wish Bear's job is to help, simply enough, everyone's wishes come true, and even when they don't, making wishes is still a lot of fun. Her symbol--a shooting star with a rainbow tail--reminds us to believe in our dreams. Pat Sez: China Springs? China F'ing Springs? I thought he was from China Grove! No wonder he doesn't own a samurai sword. No wonder he sucks.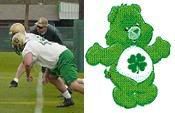 The Offensive Line is Good Luck Bear - Often helps spread his namesake to those he encounters. What can say better about his mission than (of course) a four-leaf clover on his tummy? Pat Sez: I think Good Luck Bear is also known as Crack Cocaine Bear. These guys twitch and tweak like they are never going to get another fix. C'mon Tenderheart Bear! Give 'em the rock!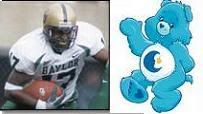 Whitaker and Mosley are Bedtime Bear - The sleepiest Bear of them all, Bedtime Bear makes sure that people get a good night's sleep all over the world. His tummy symbol, a sleepy crescent-shaped moon, says everything best about his job. Pat Sez: Wake up, boys! You are last in the Division 1-A. I know the Good Luck Bears probably think you are hiding some crack in the pigskin and don't want you to run too far from them, but this is ridiculous. You average together, more or less, 12 yards less than Temple. Temple, for God's sake!!!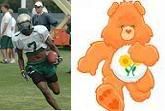 The Receivers are Friend Bear - She is the ideal friend for everyone she meets. Two smiling intertwined flowers show up on her tummy symbol. Pat Sez: Hey friend. How's it going? Let me drop the ball so you don't have to waste any energy tackling me. If I hear footsteps, I get scared. Love-A-Lot Bear doesn't want me to stray to far from home. I heart you, friend!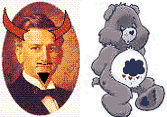 I am Grumpy Bear - Whose symbol is a grey rain cloud with falling hearts, tells us that it is okay to be grumpy sometimes, but that we should always remember to be caring, even when we are upset and that it is silly when we take our grumpiness too far. Grumpy is a fan favorite. Pat Sez: I threw up my own feces after reading that.
Labels: Football, GuyMo (Guy Morriss), WildCatMeat (Kansas State)