GuyMo, First Blood, Part 3: The Interview
The Setting
11:30am, Monday, July 31st, 2006, Spaghetti Warehouse, Austin, Texas
The accommodations couldn't have been more crowded at the Spaghetti Warehouse, but at least the claustrophobic luncheon included tiramisu for dessert. Thanks to an enterprising young BearMeat operative in the field, we are proud to say that we have both photodocumentation and a poorly-dictated transcript of GuyMo's address to the Austin Baylor Alumni. Afterward, we spoke with Coach Morriss in an off-the-cuff, no-holds-barred, impromptu interview.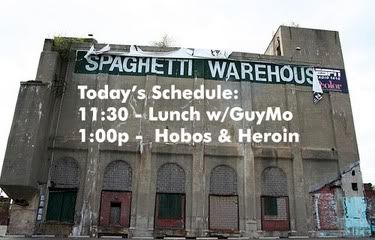 The Speech

"We are disappointed in last season's performance."

Coach's remarks were refreshingly candid, expressing his hopes, dreams, sorrows and regrets. He announced that all the "troublemakers" among the players have left or graduated. This comment seemed to suggest a certain disdain for the recruiting quality of the pre-GuyMo era. His enthusiasm for the "AirBear" or TexasTech-style offense was nicely supported with his thorough, working knowledge of the system. The subject of Mosley and the decline of the BU running game came up in the Q&A session. Morriss countered that under AirBear, the run will be opened up more than ever and that at UK he had a thousand-yard rusher almost each season under this same offense. His discussion of the QB situation and the recruiting efforts were comforting and I suppose that the most startling part of the speech was Guy's admission that last season was a depressing disappointment to him and his staff. He is bringing the fight back and he intends to bring us to a bowl this year after a winning season. When queried about the personal TCU matchup, GM skirted the alumni issue and stressed the opportunity for the team.
The Interview


"The whole season hinges on the TCU game."
[Transcript of interview is somewhat of a departure from the traditional verbatim standards of dictation. What follows is an idealized version of a brief, yet historic encounter.]
BearMeat
: Coach, we're excited about this upcoming year. You've brought the fight back to Bear Country. What can we expect from this season?
GuyMo
: We've got a great squad. We're ready to fight and we're ready for the season to begin. I love Baylor; I love this team. Expect us to come out each game with our guns drawn and firing. We've got a take-no-prisoners approach this year. We sure as hell aren't gonna be bear meat for the Big12 anymore.
BM
: (pondering) That sounds like a great title for a blog . . .
GM
: Huh?
BM
: Nothing . . . So, what are you really thinking about with the TCU matchup?
GM
: There's a lot riding on this game. The whole season hinges on it. Momentum-wise, we can't afford to lose it. We've got a great chance and the best we can do is to bring our "A" game.
BM:
Sure thing, coach. Would you mind posing for a picture?
GM:
No problem. Thanks for taking time out of your busy life to come out and support the Bears. Man, your head is big. And freaky.
BM:
Well, I've had some work done to make me look like Judge Baylor.
GM:
Dear Lord.
Conclusions
So, what was BearMeat's impression of our courageous leader? He is an honest man. His candor was refreshing, as was his commitment to our program. GuyMo may have the opportunity this season to bring the Bears our first winning season since '95. And for his ability to restore our hope, we are grateful.
Sic 'em.

Labels: Football, GuyMo (Guy Morriss)