FrogMeat, Part 7: The Seventh Inning Stretch
or
, A Comparative Study Between Southwest Conference Football and the Cast of "Goonies"
or
,
La Comedie sud-ouest
Baylor, aka the B, aka Mikey Walsh
: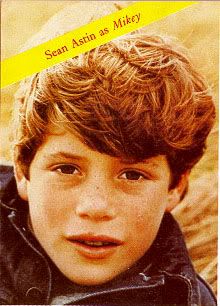 Argument
: Yeah, I know this is a bold move putting the B as the lead character and all, but, dammit, this is BearMeat! We truly believe that the Bears had the spirit and eagerness to save the SWC from demolition just as Mikey did with the Goon Docks. Unfortunately, in the end Baylor had to use this fighting spirit to save their own ass and jump ship to the Big XII. The triumphant determination of Bob "Bear Corleone" Bullock was reminiscent of Mikey's leadership in the search for gold.
Fatal Flaw
: Mikey's asthma = Baylor Football (let's face it, Rice won more SWC titles than Baylor)
Outcome
: Baylor's asthma is still acting up, damn McLennan County incinerators.
UTexas, aka the UT Dynamo, aka Brand Walsh
: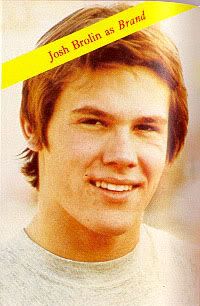 Argument
: The older, strong and overbearing brother of Mikey can only be likened to the Horns. He's got the hot cheerleader girlfriend and likes to boss around the other boys. Like Brand, the Horns are a tough and very domineering when it came to the SWC's politics and football tradition, hence UT's 25 SWC football titles, 19 of those outright. Like the Horns, Brand would rather hang out with a dorky group of boys than bang his hot girlfriend somewhere down in the tunnels.
Fatal Flaw
: Brand failing his drivers license test = UT winning only 1 SWC title in the '80s
Outcome
: UT passed their test; hopefully they didn't cheat like SMU.
TA&M, aka the Agriculturalists, aka Clark "Mouth" Deveraux
: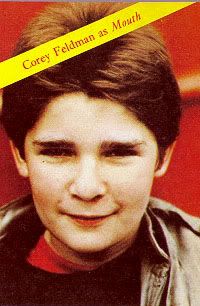 Argument
: Clark really is a punk-ass bitch who is an annoyance and a smart aleck. The same can be said for the Agriculturalists. Clark can be quite the shyster but also claims to speak many languages fluently. Like Clark, the Ags are constantly speaking in strange tongue and herking and jerking their bodies around using their thumb for strange sensations. Most people loathe Clark; most people loathe A&M.
Fatal Flaw
: "Mouth's" mouth = A&M's existence in this universe
Outcome
: Slocum actually had class, so they got Fran instead. Three cheers, ChumpWads!!!
TCU, aka FrogMeat, aka Lawrence "Chunk" Cohen
: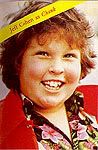 Argument
: Hahaha! Fat Goonie; fat coach. Chunk likes to make stories up and then get the Goonies to believe him. TCU tried that with the BCS a few years back. TCU tried that with Bomar a couple weeks back. Chunk could determine a flavor of ice cream through his powerful nose. TCU could smell the collapse of the SWC and tried feverishly to escape the sinking ship while offering nothing in return. However! Chunk came through at the end and saved the Goonies with his new best friend, Sloth. TCU did no such thing...but their coach is fat!
Fatal Flaw
: Chunk's Truffle-Shuffle = Gary "Fatty" McPatterson's Fort Worth Scuffle
Outcome
: TCU wants notoriety and respect, good luck in the Mountain West.
Rice, aka Beer-Bike U, aka Richard "Data" Wang
: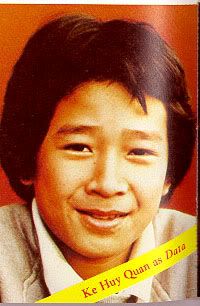 Argument
: (Ok, treading lightly here)...Rice has a very good engineering program. Data was very inventive. Some of his gadgets end up saving the gang. (Ok, keep it simple and clean, Pat)....Data and Rice are both loveable and harmless. (I can't help it!!!) Data is an Asian American! Rice has a 16% Asian American undergrad enrollment! Houston has a diverse and international city! Yao Ming plays for the Rockets! Houston has the largest Vietnamese American population in Texas! The actor who played Data, Jonathan Ke Quan, aka Ke Huy Quan, is originally from Saigon, South Vietnam!!!
Fatal Flaw
: Data's gimmicky gadgets = Rice running the wishbone
Outcome
: Rice sure does have a damn good baseball team.
SMU, aka Death, aka Sloth
: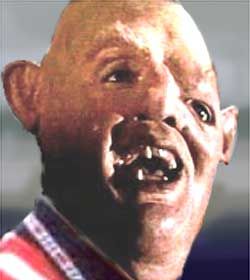 Argument
: In the '80s the Mustangs were the shit. They were quite the...monster? Well, Sloth was a monster and a very generous one as well. The 'Stangs had their own generosity. It was called "cash." They tried to help the SWC become a football juggernaut but were lazy, perhaps slothful, in covering up all the rules they broke to reach the top. John Daniel Matuszak was the actor who played Sloth. He was a great defensive lineman for the Raiders, but he is now famous for his partying and narcotic fueled antics during his football career. SMU football is not famous for their actual football anymore.
Fatal Flaw
: Sloth like Baby Ruth = SMU destroyed the SWC
Outcome
: SWC Universities not in the BIG XII can thank SMU for the ass rape.
TexasTech, aka the Lubbock Lollygaggers, aka Stef Steinbrenner
: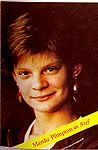 Argument
: Stef was the foil for Mouth. She was smart alecky and really very annoying. Texas Tech is a foil for A&M, and very much like an annoying girl. Tech was pretty much nothing in the SWC, and Stef is really not that memorable in Goonies. Tech won two SWC title, but had to share both of those - once with Houston and the other with Baylor. In fact, Tech is the only university to never win an outright SWC football title. Ouch! I'm sure you and Stef prospered in other aspects of life. No? Oh, sorry.
Fatal Flaw
: Stef being like Mouth = Tech being like A&M
Outcome
: At least y'all never received the death penalty!
Houston, aka WhoCougs, aka "One-Eyed" Willie
:

Argument
: The Coogs were the last to join the SWC. And for that they, like Willie, are dead to me. Willie's gold was the motivating factor in the Goonies journey to save the Goon Docks. Houston's gold was actually quite plentiful for their short time: Guy Lewis, Phi Slamma Jamma, Andre Ware, David Klingler (ok, this one is definitely fool's gold, at least for Bengal fans). And like Willie sailing off into the ocean with his riches, the Coogs ventured off away from any member of the SWC.
Fatal Flaw
: Willie's booby traps = Houston blocking out against NC State
Outcome
: Tommy Penders taking them to the Promise Land!!...What? That didn't happen? Overrated, you say?
Arkansas, aka RazorNecks, aka Mama Fratelli
: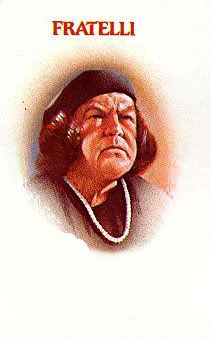 Argument
: Suuuueee, Pig! And, oh boy, what an ugly pig! Mama Fratelli claimed that Sloth was dropped as a child; thus his monstrous appearance. But we all know she fathered three inbred tits after getting knocked up by her daddy's brother. So get thee to the SEC and join your inbred brethren, Arkansas. My grandpa gave a shout out to Jesus the day the RazorNecks left the SWC. No better place for the kinfolk to sit around and roger each other than in the southeast.
Fatal Flaw
: Mama Fratelli is Italian for RazorNeck = RazorNeck is southern for "man with tail and no legs on skateboard"
Outcome
: Does it really matter?
n.b. - If there are factual errors, sorry. I've never seen this movie.
Labels: Football, FrogMeat (TCU), Lt. Gov. Bob Bullock (J.D. 1958)