FrogMeat, Part 6: The Coming of AirBear
I have much to brag about. In fact, let me make a bold prediction. Baylor will score at least three passing touchdowns in the season opener. Why? A man named Lee Hays. Lee has coached in the hinterlands of our great state, at two Aggie affiliated institutions: the godforsaken West Texas A&M and at King Ranch A&M, I mean A&M-Kingsville. However, his familiarity with rural customs is not why we brought him to the B. No, it's his ability to spread wide the offense like Sharon Stone at the OB/GYN. What Lee has brought with him is the AirBear offense. No one knows it quite like Lee, who perfected the system in the desert. The AirBear system will be an all out nuclear assault on Big12 secondaries. Think Gary Busey with his finger on the red button. No, make that Slim Pickens.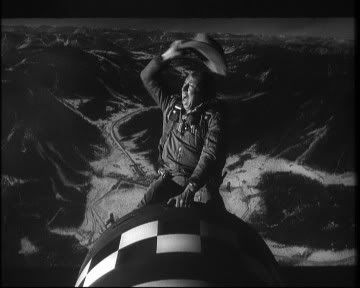 When you hear spurs jingling and smell the smoke from a pistol, you'll know that Lee "Desperado" Hays has just humiliated a couple of safetys and a cornerback or two. You'll also know because of the Bear claw marks on their backs. This AirBear system is no joke. When Baylor is playing at the Texas Bowl on ESPN2 come late December, I'm sure Brandeis U.'s football squad (or whoever they drag out to play the Mighty Bears) will be begging for mercy. AirBear is the beginning of the end. It has the potential for complete destruction of all that has come before it, or may just be the fulfillment of the prophecies foretold in the book of Isaiah. We at BearMeat wait in reverent anticipation for its unveiling against those horned lizards of FTW. Game on. Sic 'em.
Labels: Football, FrogMeat (TCU)