FrogMeat, Part 12: Pregame, A Guide to Waco-centricities
Hola, folks! Que tal? Just got back from a sight-seeing trip down in Mexico with my old amigo, Porfirio Diaz. He's doing fine, thank you. Anyways, after seeing so many wonderful attractions I decided I should tell all the newcomers about great Waco places to visit before and after Baylor's victory over TCU. Fret not, old-timers, this guide can be useful for you too. As we all know, Waco is an ever-changing, throbbing city, ready to explode into a corporate sprawl of Sears and Woolworths. So, let's get started!
Pregame Jitters? Delerium Tremors? No problem! Come on down to Highland Baptist Church and shake with the best of them. I would suggest attending the 8 am or 9 am service to really get the full experience of an Anglo Shuckin' and a Jivin' Evangelistic Discourse. Added bonus: "College Encounter" begins at 10:30 am. Gentlemen…you might see that foggy special someone from the night before there! Caveat lector: Don't shake too much. They might think you're dancing and exile you to the Church Under the Bridge. Watch where you step!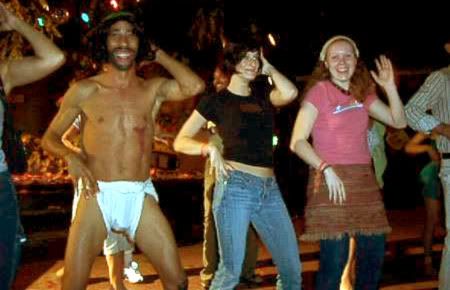 Next stop, breakfast! Knowing you, the human race, that little morsel of bread and sip of purple juice was definitely not enough to heal and prepare your tummy for another day in Waco. So head on up Valley Mills to Golden Corral and get your breakfast buffet on. No two words in the English language excite me more than Breakfast and Buffet. Uncertain? Just check out this testimonial from "wacomac":

I was amazed. I am not a fan of Golden Corral, but the breakfast buffet was fabulous. The waitress kept the coffee coming and we were there for a while doing some business. The selection was endless. Eggs, Pancakes, bacon, etc plus, lots of fruit and fruit juices. I was blown away. Hats off to the staff and manager. What a great find!

Award Nomination: Best Breakfast Ever

Hard to beat a five out of five egg and coffee rating! And let's not forget that award nomination: Best Breakfast Ever! Table for one, please!
T-Minus 4 hours and 30 minutes till game time, ladies and gentlemen, and it's beer-thirty in Texas again! Thus our foray into the fourth ring of the Baylor Bubble, the Ghetto HEB. And, no, I am not talking about Matisyahu! Make a sharp left once you pass the cashiers and head straight towards the Great Wall of Beer. You underage drinkers should consider buying elsewhere though. I have seen shit that would turn you white if you get caught by the day manager, Zephyra. No worries though, just head on down La Salle Avenue until you hit a freshman's oasis...Fina. The noble men in charge there have taken it upon themselves to flood Penland and Martin Hall with beer and firecrackers since the early 90s. Damn, that's some Pakistani determination!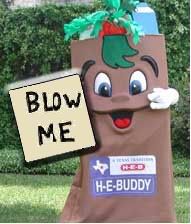 Now would be a good time to settle into your comfort zone and find a place nearby The Floyd to enjoy the dying moments of sobriety. However...if you really want to enjoy your pregame experience, then start making your way over to the cozy confines of Cameron Park. Now remember...don't just park somewhere off Cameron Park Drive. You really want to drive around, take a couple left and right turns and get in there really deep. Once inside, be sure to look out for local treasures such as the Cameron Park Slug (in the family "used prophylactics") and the Pecan Bottoms' Bottoms. Oooohhh, this park is steamy!
Well, if you haven't noticed, time flies by when you're unconscious. And it's game time! So get your butt to the Floyd!
Let us pray,
A bear and a frog pas de deux,
La rana is ranked twenty-two.
With our paws in the air,
We shout, "Sic 'em Bears!"
Los osos will eat frog leg stew!
n.b. Postgame tour is subject to review - got a date at Pecan Bottoms!
Labels: Football, FrogMeat (TCU), Waco