FrogMeat, Part 1: The Rivalry
[This will be the first in a series of Baylor vs. TCU preview posts leading up to the game.]
AdRan College, the flagship school for Disciples of Christ higher education in Texas, moved from Thorp Spring, Texas, to the fertile banks of the Brazos River in Waco in 1895. As a sign of friendship, the school was welcomed to Central Texas in a ceremonial speech by none other than the president of Baylor University, Rufus Burleson. Four years later, in 1899, the cross-town rivals met on the gridiron and played to a grueling 0-0 tie. In the twelve years that followed, the two schools played each other an average of twice a year and our Baptist Bears had a 14-9-2 record against the Disciples' Frogs. In 1902, AdRan changed its name to the dignified Texas Christian University (TCU). The rivalry was quite intense. In 1910, a fire of unknown origin (Sic 'em) started at the main building of TCU and consumed the campus. The devastation forced TCU into exile. The site for the relocation was a former military outpost 30 miles west of Dallas: Ft. Worth.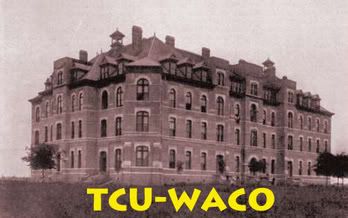 The next 85 years saw our two teams clash frequently and, more often than not, clash evenly. Two titans of Baylor football met on the field in 1972, when GuyMo, then the all-SWC lineman at Ft. Worth, and a greenhorn coach, Grant Teaff (hallowed be his name), squared off in what would be an epic trouncing of the Frogs by WacoU. When the smoke settled, the all-time record between our schools favored the Bears by two games: 49-47-7.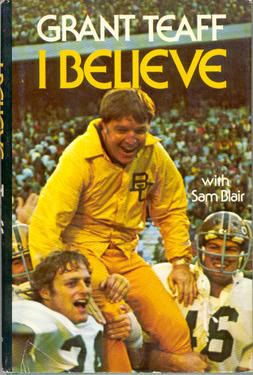 When the good ol' Southwest Conference (Requiescat in Pace) broke apart in the mid-90s for the money and power juggernaut of the college football Death Star (Big12), the historic rivalry between the Frogs and the Bears was put on a decade-long hiatus. During this time we were served as BearMeat Hors d'Oeuvres for OU, UT, Colorado, and Nebraska, before their main-course games against each other. The game on September 3rd, 2006, will represent the third century in which we have faced the Horned Frogs. They are a worthy opponent. We are kinfolk. We share a common history, common values, and a common tuition structure. They are ranked in most pre-season Top 25 polls. We are still the laughingstock of the Big 12. But this year something is different. Barking orders on the deck of the S.S. Baylor is none other than Cap'n Morriss, a clear-eyed, straight-shooting lineman from the old school. No inflated ranking will make him take a knee. He wants to draw blood against his alma mater. He wants a victory on national television. He wants FrogMeat.
Sic 'em.
Labels: Football, FrogMeat (TCU), GuyMo (Guy Morriss), Waco