Sweet Bliss: A Meditation on Hope and Despair
Part One: The Specter of Bliss, or, The Fall of Man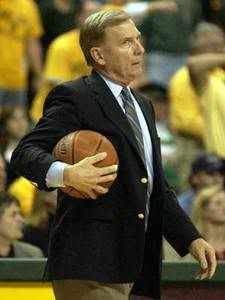 I must confess, I always liked Coach Bliss. I met him at a Fellowship of Christian Athletes basketball camp in Flagstaff, Arizona. I believe he was coaching at New Mexico at the time. He singled me out for commendation in front of all the gathered campers, pointing to my Christian character and leadership as a model for emulation. It was a proud moment, but in retrospect now, it feels like yet another Baylor sports curse. When I heard that in 1999 Bliss would be taking the head coach position at Baylor, I was excited and felt proud that we were landing a great coach. Only in light of the scandal of the Summer of '03, would I reconsider my impression. The trail of questionable activities at SMU might have been a sign, but who could have predicted the shame to come? Regardless, the ordeal dragged Baylor's name through the mud for at least a year and resulted in a serious loss of prestige for our program. Hell, the scandal nearly brought Sloan down with it, a year before he was promoted to chancellor.
Part Two: The Redemption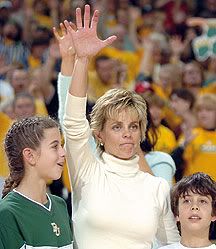 For the sake of letting go of the sins of the past, I don't want to delve too deeply into the darkest hour of Baylor Athletics. However, I mention Coach Bliss, because, in a way, his tenure with Baylor stands in stark contrast to our two current basketball head coaches. Scott Drew, hired as an ethical alternative to Bliss's moral confusion, has proven himself a maestro of recruiting. Considering the NCAA sanctions for last year's squad, which bore the brunt of misdeeds of people long departed from Waco, we achieved more than was expected of us. The fact that our recruiting classes, which include our first-ever McDonald's All-American in born-again, perimeter-threat Tweety Carter, have ranked with the best in college hoops are a testament to his by-the-book commitment to selling Baylor's strengths. It is no coincidence that many of his recruits have serious faith commitments. He is shoring up all the ballers who claim Christ as their co-pilot. If that includes finding people in Australia and Senegal, so be it. Baylor. Above. Beyond.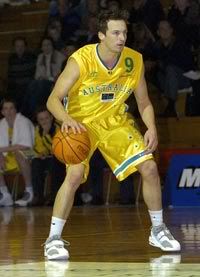 Mulk herself, who will merit her own future three-part series in BearMeat, single-handedly willed Baylor to a championship. Her past, her personality, and her hoops-savvy are nothing short of godlike. A woman who won championships and gold medals in high school, college, and the Olympics is a bit out of place at easy-going WacoU. We are not accustomed to such tenacity. Her presence here is a gift from God, and we should never take it for granted. Her recruiting of two All-Americans would be enough for normal expectations at our school. But no. Mulk had other ideas. She had some personal demons to overcome. A bloody knife was still lodged in her back from LaTech, her alma mater who refused to offer her the contract she deserved. Mulk didn't care that the Lady Bears had no history of competitiveness. She didn't let the Bliss scandal interfere with her goal. She personally exorcised the Specter of Bliss when, clad in a baby blue suit, delivered a knockout blow to Michigan State.
Part Three: I Will Make You Fishers of Men
Baylor and Waco suffer and have suffered from many curses in the past century. When first erected in 1910, the ALICO building stood as the tallest west of the Mississippi. We stood poised to join the elite cities of the West. The ALICO represented the optimism and hope of the city and the school. Then, misfortune struck. The Waco Horror. The Immortal Ten. The Tidwell Bible Building (so eloquently explicated by the good Judge). The Tornado. The Branch Davidians. The Specter of Bliss.
Each tragedy stigmatized our home and tarnished the good name of our alma mater. Pessimism and conservative withdrawal dominated among the Bear faithful and denizens of Waco alike. Yet, on one April evening, an unrepentant winner, unencumbered by our history of resignation, refused to give in. With that, our eyes opened to the possibility of transcendence. Our football program stopped rolling over for our historic foes. Our baseball team went to the World Series. The heavens opened. Trumpets sounded. Let a new era begin. Let us shake off the shackles of our tragedies, curses, and shortcomings. Let us embrace the world to come.
Sic 'em.
Labels: Aaron "The Emu" Bruce, ALICO Building, Dave Bliss, Gentlemen Bears Hoops, LadyBears Hoops, Mulk (Kim Mulkey), Robert Sloan, Samurai Mike (Singletary), Scott Drew, Tidwell Babel Building, Tweety Carter, Waco