Declaration of Principles
In true Citizen Kane fashion, we here at BearMeat have decided to fashion a Declaration of Principles to form a covenant with our readers. Think of this document as our 2012 Vision, but without all the greenspaces, prayer gardens, and fundraising. Our principles, we hope, will set the ethical bar high and will strive to maintain a certain sense of integrity. If and when this fails, we will be able to point back to our first posting and hang our heads in shame. This shame will in turn fuel Neffistopheles' alcoholism. Thus, we ask that you never hold us to these principles, if only for health reasons.


1. Our blog will further the cause of Baylor Athletics.
We are committed to the next hundred years being the Century of the Bear. Baylor sports must be restored to their former glory. This can be done with the University investing the necessary resources, personnel, and capital in to our athletics program. This is not an unrealizable goal. However, winning program or not, BearMeat will back the Bears in good times and in bad.
2. We firmly stand behind the notion that Baylor University is poised to compete and contend for the championship of all the major sports.
As witnessed by our Lady Bears' victorious 2005 season, the
Pride is Back
at Baylor. Our men's and women's tennis teams continue their dominance; baseball is regularly a national contender, having recently gone deep in to the College World Series; our track team's reputation as Quarter-Miler U. is unparalleled in college sports, as we have won the last three Olympic Golds in the Men's 400m. Football and basketball, the premiere college sports, cannot be far behind.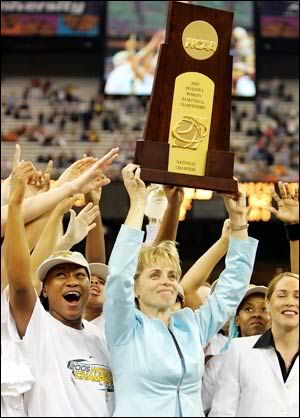 3. We promise never to utter a kind word about the Sloan administration
and its shortsighted shortchanging of Baylor's first decade in the Big 12. As the Good Judge will explain, the Sloan Era was marked by significant decline for the men's football and basketball programs. These years were starkly inconsistent with Baylor's illustrious legacy in these sports. Our entry in to the Big12, thanks largely to Bob Bullock, Ann Richards, & Co., was an opportunity to introduce our school to the entire nation. Instead, we became
BearMeat
for the rest of the Big 12.
4. No Irish Need Apply.
We're sorry, but this is our Golden Rule.


5. Wine, Women & Song. We pledge to honor the great fan traditions of Baylor sports. The Big O at George's Tent. Two-Dollar Tuesday at Scruffy's. The walk of shame from her place back to yours the morning after. We will, a la Abner McCall, drink our whiskey in private, but we will never let Satan blow it out. We're gonna let it shine.

And with that, you have our Declaration of Principles. If distilled in song, they would ring out:


We'll fling our green and gold afar
To light the ways of time,
And guide us as we onward go;
That good old Baylor line!
Labels: Football, Governor Ann Richards (B.A. 1954), LadyBears Hoops, Lt. Gov. Bob Bullock (J.D. 1958), Robert Sloan